Greetings Friends and Followers of KRose Company!
We're so happy to be here, and want to thank you for taking the time to read our story.
Let us first introduce ourselves as JaTanna Williams and Natalie Kovarik –the best friend duo behind Ranch Wives Beef Co. Together in the fall of 2017 with a little preparation and a whole lotta faith, we jumped feet first into the ranch direct beef business and began shipping our family raised beef to customers near and far. Why the new adventure? It's simple, really. As ranch wives and mothers, we wanted to find something that would allow us to contribute to our daily operations while simultaneously spending more time out and about on the ranch with our husbands and kiddos. Out of that desire came RWBCo., a company built out of love and appreciation for all things food, family and ranching.
Let's rewind a few years and take it back to the beginning, where our love for Ag really started. Natalie grew up on a registered Hereford ranch in Southwest Montana. As one of four daughters of a fourth-generation operation, she grew up immersed in the ranching lifestyle but was always encouraged to pursue dreams and goals outside of ranch life. Little did she know a 5th generation Angus rancher from Nebraska would eventually come to her family's annual bull sale and leave with not only a bull, but also her heart Ha! Together with their sons, Tad (14) –very helpful, and Jaks (1) –not so helpful, Natalie and her husband Luke run and operate Kovarik Cattle Co. – a cow/calf operation in the beautiful Sandhills of central Nebraska. She holds the Ag community near and dear to her heart and hopes to spend more time advocating for an industry that has given so much to her. With two 6th generation cowkids in the mix, now more than ever she understands that ranching isn't just a part of her children's history, it's a part of their future.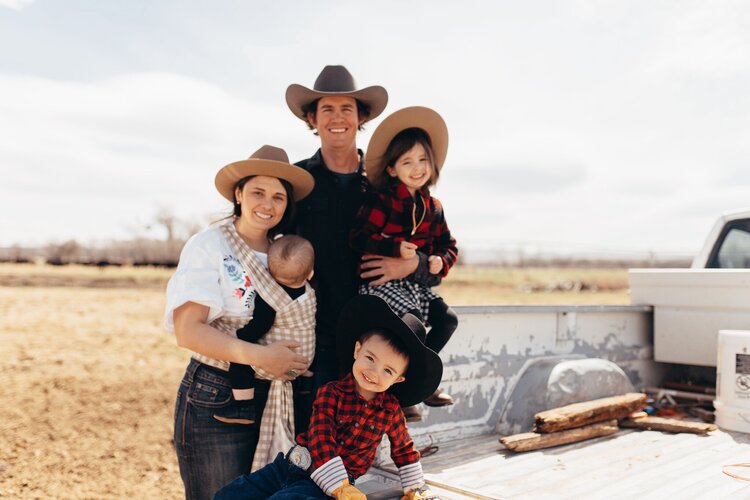 JaTanna grew up in the same rural Montana town that Natalie did and spent most of her youth admiring the ranching lifestyle. But let's face it, it was more the horses than the cows – her mom could hardly keep her home on the weekends as she was always trying to run off to Natalie's house to get in a ride or two. Her admiration later turned into reality when she married her high school sweetheart Tyler, a 6th generation rancher. As a multigenerational operation, Tyler along with his dad and grandfather raise registered Angus cattle through embryo transplant services for stock growers across the US and Canada. JaTanna now finds herself a mom of three 7th generation ranchers, a full-time pharmacist, ranch wife and part time ranch hand. Adding a beef business and Agricultural advocate to the mix just added that extra spice of life she didn't know she was looking for! Raising her children in a small community where the cows roam and kids run freely in the dirt is a blessing she thanks the good Lord for every day.
We're only two years in, but this company has brought us more joy and blessings than we could have ever dreamed possible. This summer we turned our love for Ag and kids into something tangible when we collaborated with Public Market Goods –an apparel company out of California, to create a line of American made children's t-shirts. Our "Ranch Raised" and "Farm Raised" shirts are an ode to the special lifestyle Ag kids are blessed to live. The slogan celebrates summers spent playing barefoot in pastures and sleeping in the buddy seat of dad's tractor. It celebrates kids whose first word is "moo" and kids who'd rather eat meals on the flat bed of a truck than around the dinner table. And this slogan honors parents who bring their kids to work every day and teach them proper animal care and the meaning of hard earned money. Just ask Tad, this was his first paid summer on the ranch and within 2 weeks he came to dad asking for a raise HA! Welcome to what it means to be a rancher kid ☺ As moms of 5 ranch kids, this project was very near and dear to our hearts and an accomplishment we are very proud of. Plus, not only are they darn cute, but Public Market Goods gives proceeds of every shirt directly back to the farm or ranch involved via their "For the Love of Farm" campaign – of which Ranch Wives Beef Co. was honored to be their first participant of.
Moving forward we have high hopes for the Ranch Wives brand in both sharing our family raised beef, as well as our personal journey as ranch wives and moms. What started as a mission to share the end product of our families' hard work, turned into a platform to share our story and encourage others to tell theirs. We must recognize that the disconnect between producers and consumers is growing bigger every day and thus the future of the livestock industry is reliant on keeping the trust our predecessors instilled in their customers, but also gaining the trust and support of those who lost or never had a relationship with their rancher. If you do one thing after reading this article, please let it be sharing your story. Share how much care, love and attention goes into producing BEEF, and while you're at it maybe throw your kiddo in a ranch/farm raised tee show they can have a chance to share with the world how much they love this industry too.
God Bless and Eat Beef!
J & N
To find out more about us and our company you can visit our Instagram page @ranchwivesbeefco or our website www.ranchwivesbeefco.com—